GENERAL INFORMATION
---
COUNTRY NAME AND LOCATION
The Marshall Islands, officially the Republic of the Marshall Islands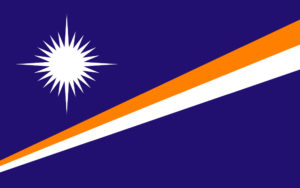 Capital: Majuro Island, Majuro Atoll
The Marshall Islands are located just north of the Equator between 4° and 19° North latitude and 160° and 175° East longitude(about half way between Guam and Hawaii). The country of 29 atolls and 5 islands covers just under 1 million square miles of the Central Pacific. Marshall Island  located near the equator in the Pacific Ocean, slightly west of the International date line. Geographically, the country is part of the largest island group of Micronesia.
MAJURO ISLAND DOWNTOWN MAP (PDF)
---
VISA
All visitors to the Marshall Islands must hold a valid passport (6 months validity) and onward or return confirmed transportation tickets.
---
CUSTOM AND DUTY FREE ALLOWANCES
Travelers over the age of 18 may bring in 2-1/2 cartons of cigarettes, 2 litters of liquor and 8 ounces of chewing tobacco duty free.
---
DEPARTURE TAX
A departure fee of $20.00 cash is payable for all departing passengers except for students (kindergarten up to high school seniors only, cash payable of US 15)
---
TIME ZONE
The Marshall Islands are 12 hours ahead of Greenwich.  (Marshall Islands 09:00 am = Japan 06:00 am / same date)
---
CURRENCY
United States Dollar (USD)
---
CLIMATE
The weather in The Marshall Islands is tropical – hot and humid, but tempered by trade-wind prevail throughout the year. The average temperature hovers around 80 degrees Fahrenheit (27 degrees Celsius) and rarely fluctuates.
---
DRESS CODE
Dress is island style (casual). Cool, loose-fitting clothes accepted in most places. Sunscreen recommended. Swimsuits, short shorts/skirts should not be worn in urban areas.
---
HEALTH AND MEDICAL SERVICES
Majuro has one private clinic and one public hospital. Most outer islands has medical dispensaries. It is advisable that you ensure you bring sufficient supplies of prescription and other personal medical requirements with you.
---
ELECTRICITY
Current is 110V, 60-cycles. U.S. – style plugs are used.
---
TAXIS
Taxis are cheap way to travel around Majuro, with prices from US$ 1.00 to US$ 35.00 depending on distance. On Majuro a ride-sharing taxi system is used, which means that you can stop a taxi already carrying passengers. Please note: there are no current regulations for taxi prices on Majuro and you should check the price with the driver prior to taking any taxi ride. Also available clean rental car at hotel.
---
GETTING TO THE MARSHALL ISLANDS
The Marshall Islands is currently served by 2 international airlines, UNITED Airline and NAURU Airline.
From US Mainland and Hawaii: United Airlines operate an "Island Hopper" service through The Marshall Islands. There are 3 flights a week direct from Honolulu to Majuro and on to Kwajalein.
From Europe and Asia: United also fly 4 times a week from Guam via Chuuk, Pohnpei and Kosrae to Kwajalein and on to Majuro. These flights connect in Guam with services from major Asian including Manila, Hong Kong, Taipei, Seoul and a number of city in Japan including Tokyo.
From Australia and The South Pacific: Nauru Airlines connect Majuro with Brisbane (Australia), Nauru, Tarawa (Kiribati), Nadi (Fiji). There is a weekly flight between Brisbane and Majuro via Nauru.
---
OUTER ISLANDS
The domestic airline "AIR MARSHALL ISLANDS", operate services from Majuro to several outer islands, generally on a weekly basis. For latest fares, timetable and booking information please contact: AIR MARSHALL ISLANDS / www.airmarshallislands.net/
---