EASY WRECK DIVE AT FRONT OF MIR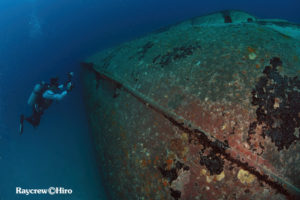 The huge fishing vessel "Ocean Glory" is sinking at bottom 75 ft front of Hotel Marshall Islands Resort. It is a famous wreckage ship in Majuro.
You can reach there about 5 min by snorkeling or diving from the hotel dock. Unfortunately, Invisible from the water because of low transparency. often, I dive here with Open water license courses, because it is very easy to take the depth of 2 m to 18 m and there is no current.
If you have buddy
You can dive here with buddy only by a renting scuba tanks and weights (or full set rental gear). If you can find it…
Photo © Hiro (Hiroaki Ueda) @ RAYCREW

Ocean Glory